Kevin Moore grew-up on the farm where Rock Of Ages Winery & Vineyard now sits. With an Economics degree from N. C. State University, Moore worked as a stockbroker, but later got into the import business. He then opened Hard Rock Marble & Tile in Hillsborough, NC, which he operated with his wife, Kim. But a dream of producing wine led Moore to begin planting grapes. He obtained a degree from Surry Community College in Enology and Viticulture. Moore began construction on the winery in November 2005. He served as general contractor and laborer. In addition to all his other duties, he is the facility's winemaker.
Kim Moore grew-up in Person County, NC. She obtained an accounting degree at Elon College and began working as a financial analyst at Duke Hospital. After their third child was born, she joined her husband, Kevin, in business at Hard Rock Marble & Tile. She now has the added responsibilities of co-owning Rock of Ages Winery & Vineyard.
"THE WINERY BEGAN AROUND A CAMPFIRE"
The beginning of Rock of Ages Winery started around a campfire. When our kids were younger we would go camping with Kevin's brother Herb, his wife Beverly and their son Adam for the week of July fourth. This was a great way to enjoy the family and get away from the hustle and bustle. Herb would make our camping reservation usually at a state park. This was wonderful because it would allow us to visit new places and share historical information with our kids. The wonderful thing about most of the State Parks is they are very clean and well maintained. However, most of them don't have some of the amenities that we all love, ie. internet and cable. With this said we were able to spend quality time with our kids, hiking, biking, swimming, grilling and talking around the campfire. This is when Kevin decided to plant the vineyard. We inherited the family farm when his dad past away in 1999 and we wanted to do something with the farm to preserve the family farming tradition. Kevin decided to plant 3 acres, and so the journey began.
After Kevin planted the 3 acres he quickly began to realize that he needed more knowledge about growing grapes. He found out that Surry Community College had an operational winery and offered an associate degree in Viticulture and Enology. Kevin's Economics degree from NC State University had given him a great deal of knowledge from the business side of operating a Winery, but he needed more knowledge about growing grapes and making wine.
We are often asked, "Who designed your wine labels"? We are fortunate to have a local artist in our community, Phil Holeman. Phil has been a wonderful asset who has taken our ideas along with his artistic creativity and created our labels. We believe he has done an excellent job in creating a label that tells our story.
Remember how I told you that Kevin's dream of starting a winery began around a campfire.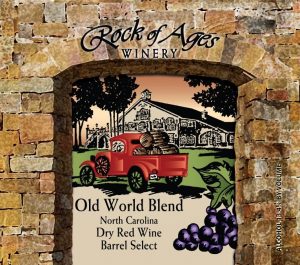 Well the truck on the label came from camping as well. When I was growing up I always enjoyed watching the Walton's. The Walton's was a television series about a family that worked hard, loved their family and cared about protecting their land for future generations. When our kids were younger they enjoyed the luxury of technology and could not imagine a week without television or computers. However, most State Parks did not have cable hook-ups so I decided to introduce them to "The Walton's". The values, and life experiences that were encountered throughout this series were good lessons and a great way to bring up discussions and have teachable moments with our kids. In many of the scenes the Walton's were driving the family truck, hence a similar truck is on our wine label. For us the truck symbolizes "the blending of the old into the new". The old are the values and ethics we were taught and the new is what we can teach and share with our kids through education and commitment to starting a new business. The truck also reminds us that hard work is not a thing of the past it is the future for success and we must teach this to our kids as well.