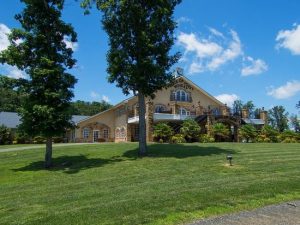 The Moore family invites you to visit the Rock of Ages Winery & Vineyard in the Hurdle Mills community in southwestern Person County – just a short drive from Roxboro, the Triangle or the Triad areas of North Carolina.
Enjoy a unique and unforgettable experience at the Rock of Ages Winery. We designed the winery with in an Old English style with hints of Italian and Western lodge influences. This symphony of natural colors and textures is surrounded by 26 acres of vineyards and a four acre lake. Ideal for experiencing a North Carolina Winery and Vineyard that's only a few minutes from the hustle and bustle of the city of Raleigh, Durham, Chapel Hill, Burlington, and Greensboro. Once you've arrived start with a tasting so you and your family and friends can decide on one of the 33 different wines to take home and enjoy later. Or you can enjoy a relaxing afternoon with good conversation, a glass of wine and some Ashe County Cheese.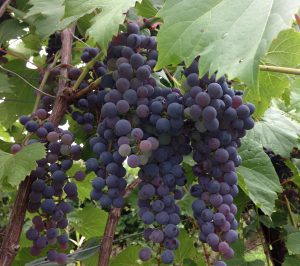 Since the winery is located in southern person county near the Virginia border we have always experienced a unique weather pattern which provides a unique climate. This gave Kevin the vision to experiment and grow other grapes besides the typical North Carolina Muscadine grape. When Kevin and I are traveling around North Carolina doing tastings at events we are always amazed at how many people can't believe that we are making dry red and dry white wines from our grapes. For most, their first impression, as they sample the wine is Wow, this is good. Our response is "Thank you!, and yes, Rock of Ages Winery is growing Cabernet Sauvignon, Merlot, Cabernet Franc, Lemberger, Petit Verdot, Touriga, Chardonnay, Chardonel, Petit Manseng, Traminette, and Viognier."

We would like for you and your family and friends to come visit our winery. If Kevin and I are not there to help you then please allow our staff to share with you some of our history and some of our wine. Always remember, "Wine is designed to help you relax, slow down, and enhance your quality of Life".
Hours:
Open 7 days a week 1:00 pm – 5:00 pm
Wine tastings available daily, no appointment necessary.
*Reservation required for parties of 8 or more.
*Offering Ashe County Cheese and Elon Salami.
*No Picnics or outside food.
HOLIDAY HOURS: (Days the Winery is closed)
New Years Eve
New Years Day
Easter Sunday
Memorial Day
July 4th
Thanksgiving Day
Christmas Dec. 24, 25 & 26
Address:
Rock of Ages Winery & Vineyard
1890 Charlie Long Road
Hurdle Mills, NC 27541(336) 364-ROCK (7625)
Directions:
Directions from Burlington, NC
Take Exit 150 off I-40/85 at Haw River exit
Travel Jimmy Kerr Road north 1.7 miles
At US70 continue straight – road becomes Wilkins Road
Travel 0.5 miles on Wilkins Road to stop light
Turn right onto NC 49 North (Roxboro Road)
Travel 15.7 miles to NC 86 North
Turn left onto NC 49 North/NC 86 north
Travel 0.4 miles
Turn right on NC 49 North
Travel 7.5 miles
Turn right on Charlie Long Road
Travel 1.9 miles
Winery is on right
Directions from Durham, NC
Take Exit 175 off I-85 onto Guess Road (NC 157)
Travel north on Guess Road 20.6 miles
Turn left at a stop sign onto
Hurdle Mills Road west
Travel 0.2 miles and veer right at Hurdle Mills Market & Butcher Shop onto Union Grove Church Road
Travel 0.3 miles and turn right onto Charlie Long Road
Travel 1.3 miles and winery is on the left.
Directions from Hillsborough, NC
Take Exit 164 off I-85 or Exit 261 off I-40
Travel north through Downtown Hillsborough
where Churton Street becomes NC86
Travel 14.8 miles north of I-85 on NC86
Turn right on NC 49 North
Travel 7.5 miles
Turn right on Charlie Long Road
Travel 1.9 miles
Winery is on right
Directions from Roxboro, NC
Take NC 49 South off US 501 (Madison Blvd.)
at Burger King in Roxboro
Travel 8.4 miles
Turn left on Charlie Long Road
Travel 1.9 miles
Winery is on the right.