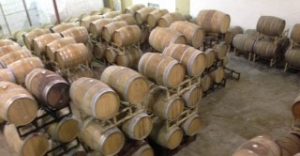 We have been talking about our wine club for five years. We have been to seminars, talked to other wineries, dedicated hours of time trying to develop the best wine club for our members. We finally decided that a wine club should not be complicated it should bring club members together for a common goal of getting to know other club members and enjoying Rock of Ages Wines. Since we are currently offering 33 different wines there is a wine for everyone.
To join the Rock of Ages, "Old Cellar Wine Club" is easy.
There is a one time fee of $35 to set up and monitor your account.
You will receive a membership card, and we ask that you present this card when visiting the winery so you will receive your benefits. Membership replacement cards are $25.
Membership benefits apply to you and 1 guest.
Your commitment is to buy a minimum of 1/2 case of wine in April and 1/2 case of wine in October. For this commitment you will receive a 30% discount on all of our wines based on retail prices when you purchase in 1/2 case (6 bottle) quantities. This benefit applies anytime throughout the year. You can have this wine shipped or you can choose to pick the wine up at the Winery. The wine MUST be picked up within 30 days of purchasing the wine.
Case Purchases (12 bottle) quantities you will receive 35% discount on retail prices.
Freight to ship will be $20 for 6 bottles, and $30 for 12 bottles
10% Discount on all Event Tickets. (Rock of Ages Winery Events)
We will send you an email as a reminder in April and October
We will notify all club members of specialty wines and limited production wines before we offer them to the public.
You will receive special privileges at events (VIP lounge)
Periodically special discounts will be offered only to club members.
Thanks for your interest in the Rock of Ages Winery "Old Cellar" Wine Club. It will take approximately one week to process and set up your Wine Club membership.
---
To Join Rock of Ages "Old Cellar" Wine Club click HERE